Batesville Daily Guard – June 18, 2009
Tube Heaters Help Save Energy, Help Poultry Grow Faster
As poultry house builders and poultry growers themselves, the Independence County Farm Family of the year – the Mark and Susan Trucks Family – has introduced energy saving equipment to many farms over the past several years.
Among the improvements are Easy Radiant Works radiant tube heaters, solid sidewall construction and computerized environment systems for chicken houses. Radiant tube heating, introduced about 10 years ago in the Trucks family's own poultry houses, saved an estimated 30 to 40 percent on propane costs for most chicken houses, Mark said.
An Easy Radiant Works radiant tube heater is a propane or natural gas-fired heater that hangs near the ceiling of the chicken house. It consists of a firebox connected to a metal tube, usually 40 to 50 feet long, running lengthwise in the house. The tube heaters can be used in combination with forced air heaters or as the sole source of heat in a house.
The tube heater is different from radiant brooders or pancake brooders in that its burners are enclosed in a firebox instead of being exposed to house air. The tube heater draws combustion air from outside the house with a fractional horsepower motor, then pushes the heated air from the firebox through the tube. The tubes then radiate that heat downward to the birds. Reflectors above the tubes protect the ceiling and bounce the heat rays from the top of the tube back toward the house floor.
"Radiant" means the heater gives off infrared rays that transfer to any object in the vicinity. Advantages over other systems include not having to heat the air, then circulate the air in order to heat the birds. More comfortable birds also grow faster on less food, meaning a larger profit for the farmer.
Solid sidewall construction was also introduced about 10 years ago. The solid, insulated walls keep the birds cooler in the summer and warmer in the winter. The computerized environmental systems help make sure the temperature inside the houses remains at the optimum comfort level for the birds.
Again, this helps create chickens that grow faster on less feed which is important to the farmer, who gets paid by the pound for his or her chickens.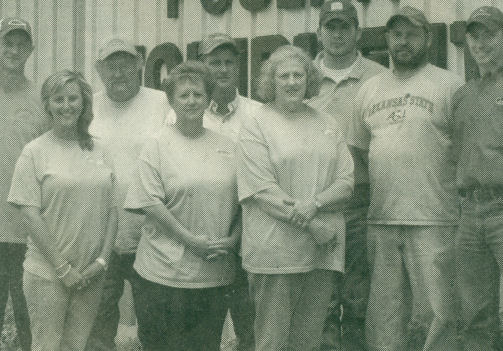 Before selling any new equipment, the Trucks family tries it out in their own poultry houses first. They and their employees operate 25 poultry houses on four different farms. "We won't sell something until we've tried it out ourselves," Susan said. "We don't want to ask the customers to buy something until we have tried it out and know it works."
"We like to know what we're selling and how it works," Mark said.